VIET THAI T.T CO., LTD is currently the authorized distributor of EMEC's chemical metering pumps. This is one of the leading brands in the field of metering pumps, providing quality and reliable solutions for chemical processing and production processes.
Understanding chemical metering pumps in general and EMEC's products in particular is crucial. This helps users gain an overview of the technology, applications, and benefits of various types of chemical metering pumps.
According to vietthaiaqua.com, metering pumps are devices used to accurately deliver a specific quantity of liquid, chemical, or gas through a tube or pipeline system. The applications of metering pumps are diverse and depend on the type of liquid or chemical used. Metering pumps play a crucial role in various industries and applications to ensure accurate and consistent delivery of liquids, chemicals, or gases in production, processing, or research processes.
Here are some examples of using metering pumps:
In the chemical industry: Metering pumps are used to accurately deliver chemicals such as acids, alkalis, solvents, and chemical additives into the production process. This ensures the accuracy and consistency of the process and products.
In the pharmaceutical industry: Metering pumps are used to accurately deliver medication doses during the production process or in medical devices such as automatic injectors.
In the food and beverage industry: Metering pumps are used to accurately deliver components such as flavorings, food colors, flavor enhancers, and antioxidants into the food and beverage production process.
In water treatment: Metering pumps are used to accurately deliver various types of chemicals, such as disinfectants and water treatment agents, into the water treatment process for cleaning, disinfection, or pH adjustment.
In scientific research: Metering pumps are used to accurately deliver solutions, samples, or liquids in chemical experiments, research, and analysis.
Emec provides a wide range of diverse chemical metering pumps to meet the needs of various industries.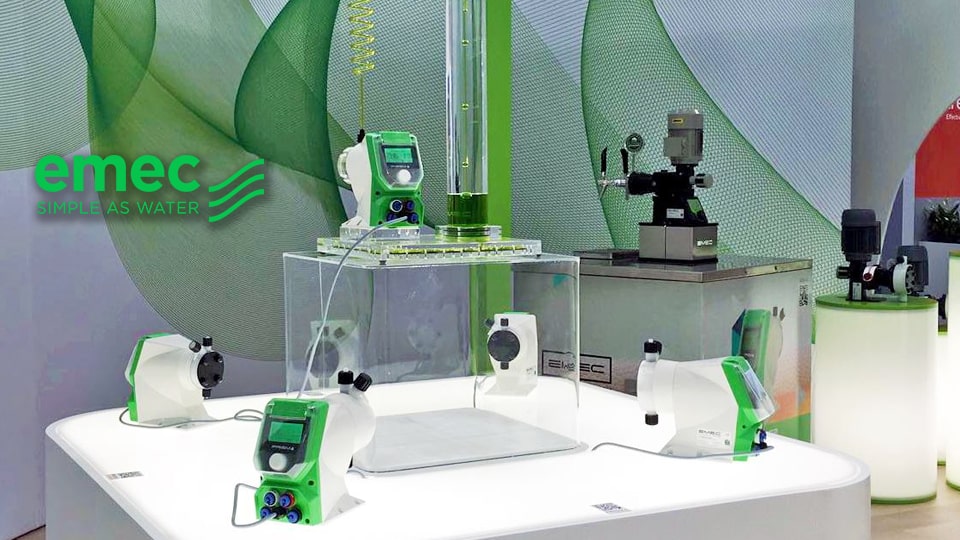 1. Some notable series of Emec metering pumps
This type of pump is controlled by a stepper motor, allowing precise adjustment of the supplied chemical. Stepper motor metering pumps are suitable for applications that require high accuracy and reliability in the production process.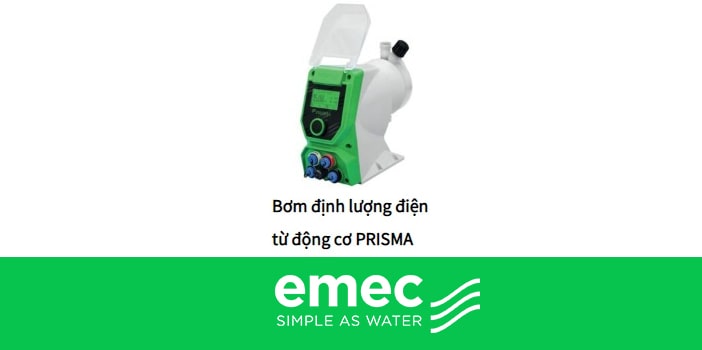 This type of pump utilizes electronic technology to control the amount of chemical. It has the flexibility to adjust and meet various requirements. Electronic metering pumps are suitable for applications that require flexible and diverse adjustments.

This series of pumps uses a motor to control the amount of chemical. It has the ability to deliver stable and reliable chemical amounts in the production and processing processes. Motor-driven metering pumps are suitable for applications that require high and stable quality supply.
Each series of Emec's chemical metering pumps has its own advantages and is designed to meet the specific requirements of each industry. By understanding the structure, functions, and applications of each pump series, users can choose the most suitable product for their needs.
2. How to choose a metering pump
When selecting a chemical metering pump, there are several important factors to consider.
First, it is necessary to determine the specific needs and requirements of the industry in which the pump will be used. Understanding the requirements for flow rate, pressure, and type of chemical will help choose the most suitable pump.
Second, the operation and maintenance processes of the pump should also be considered. Users need to have a clear understanding of the manufacturer's operation, maintenance, and regular inspection instructions to ensure the performance and lifespan of the pump.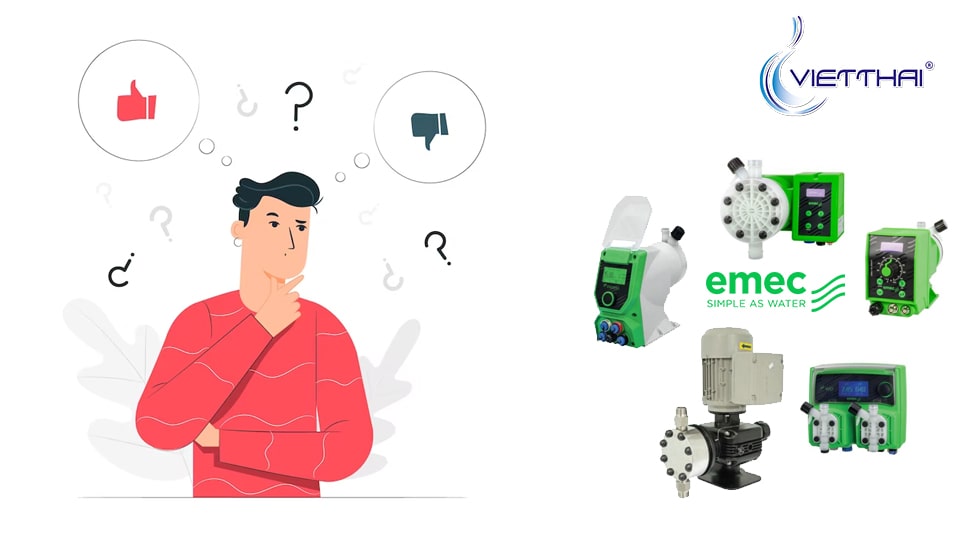 Here are some specific criteria that can be considered:
Intended Use
Identify the intended use of the metering pump. You need to determine whether the pump will be used for water supply, wastewater treatment, chemicals, or any specific industrial application. Understanding the intended use will help you choose the right type of pump and suitable features.
Flow Rate and Pressure
Determine the required flow rate and pressure for your application. The flow rate is the amount of liquid you need to pump through within a specific time frame, while the pressure is the force required to push the liquid to the destination. Properly identifying the flow rate and pressure will help you choose a pump that can meet your requirements.
Liquid Quality
Evaluate the quality of the liquid to be pumped. The liquid could be water, corrosive chemicals, contaminants, or viscous liquids. Depending on the nature of the liquid, you may need to choose a pump with corrosion-resistant materials, resistance to the effects of contaminants, or a pump with the ability to handle viscous liquids.
Efficiency and Energy Savings
Consider the efficiency and energy-saving features of the pump. Choosing a pump with high efficiency helps reduce operating costs and save energy. Additionally, if you are concerned about environmental protection, you should also consider energy-efficient and environmentally-friendly pumps.
3. Emec Metering Pump Prices
VIET THAI T.T CO., LTD provides Emec brand chemical metering pumps at competitive prices and professional support services. Particularly, the company ensures the quality and stable operation of its products. The diversity of product lines, high quality, and customization capabilities allow customers to choose the optimal product for their needs.
In the market, the prices of chemical metering pumps can vary. However, VIET THAI T.T CO., LTD commits to offering competitive prices to customers in Ho Chi Minh City. This ensures that customers can purchase genuine products at good prices accompanied by quality.
4. How to Efficiently Operate a Metering Pump
To efficiently operate a chemical metering pump system, users need to follow instructions and safety procedures. This includes regular checks, monitoring performance, and reacting promptly to any signs of danger. By adhering to safety rules, users can ensure the stable operation and reliability of the chemical metering pump system.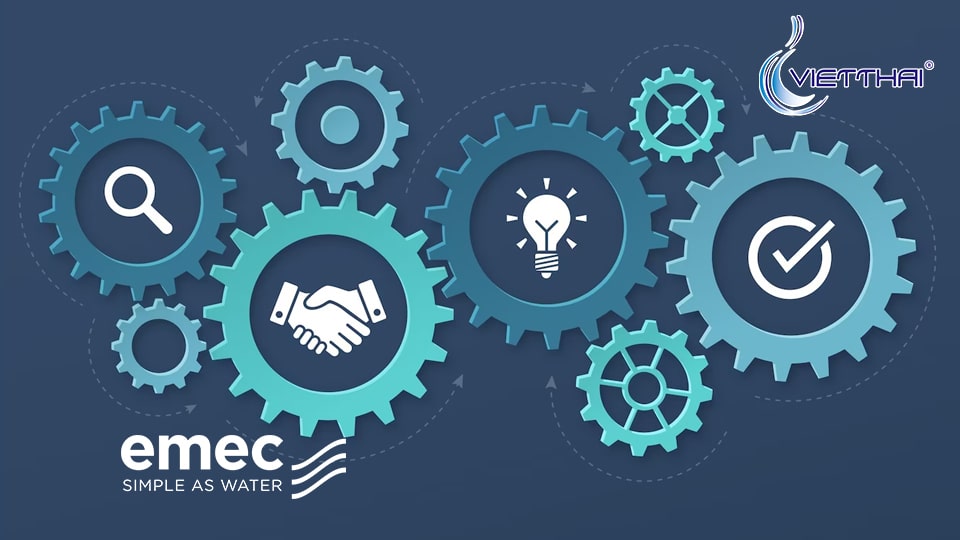 Here are some suggestions to enhance the efficiency of metering pump operation:
Choose the appropriate pump
Ensure that you have selected the suitable metering pump for your application. Consider factors such as pump type, capacity, working pressure, and required flow rate.
Properly position the installation
Place the pump in a convenient position to ensure efficient flow of the liquid. Minimize bends and curves in the pipeline and ensure the pump is installed close to the liquid supply source.
Perform regular checks and maintenance
Conduct regular checks and maintenance on the pump to ensure stable operation. Inspect valves, conduits, flanges, and other components to ensure there are no leaks or damages.
Adjust Pipe Length
The length of the pipe affects the pressure and flow rate of the fluid. Ensure the pipe length is appropriate to minimize pressure loss and optimize pump performance.
Adjust Pump Speed
Adjust the pump speed to match the liquid usage requirements. This can help increase efficiency and save energy.
Utilize Automatic Control Technology
Apply automatic control technologies to monitor and adjust pump operations. Intelligent control systems can optimize pump performance and minimize waste.
Train Staff
Ensure your staff is properly trained in operating metering pumps.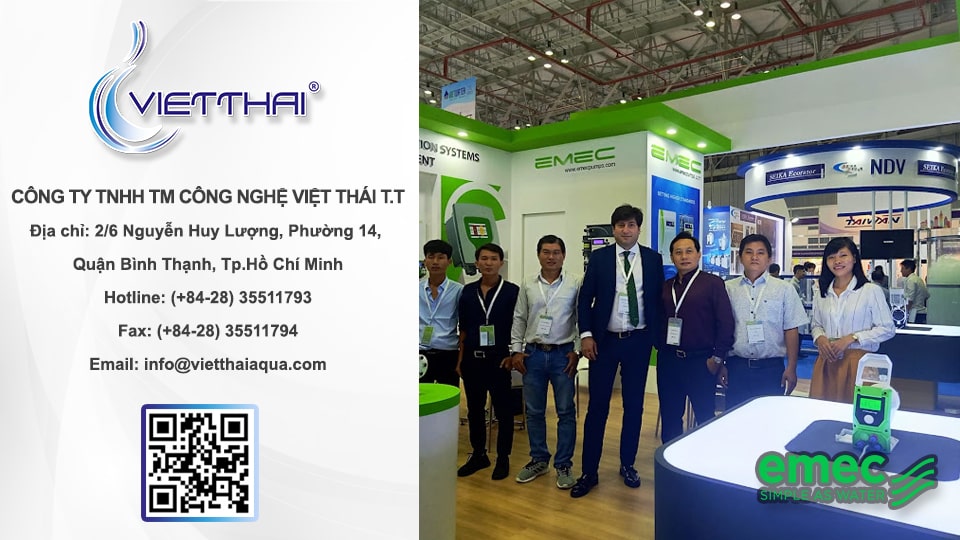 Understanding the types of Emec metering pumps and related knowledge is crucial. This helps users select the appropriate product for their needs and ensures performance and safety during usage. VIET THAI T.T CO., LTD is a reliable address to find Emec brand chemical metering pumps at competitive prices and high quality.