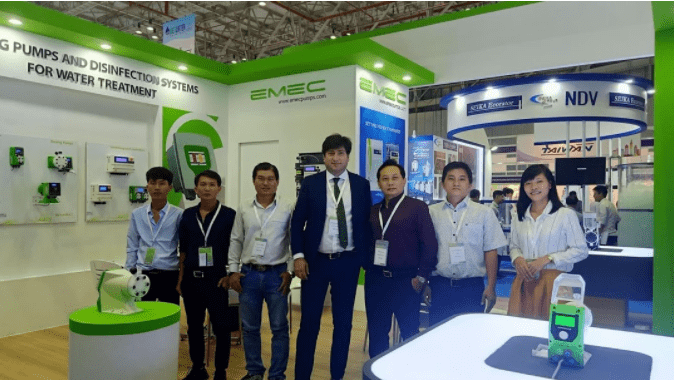 Viet Thai T.T is an exclusive distributor specializing in the supply and distribution of various types of Chemical Metering Pumps from the Italian brand EMEC. We are the exclusive authorized distributor in the Vietnamese market and have become a top choice for large enterprises nationwide when they have a need for Chemical Metering Pumps.
Chemical Metering Pumps are one of the popular pump models that are widely used in Italy and are now available in Vietnam. These pumps are relatively affordable, ensure high quality, and have a wide range of applications in production.
Advantages of Chemical Metering Pumps
Equipped with automatic heat dissipation structure.
The pump housing is spiral-shaped and divided into two compartments, which ensures the optimal operation of the Chemical Metering Pumps.
Durable structure, providing stable operation.
The materials used in the pump, including PVDF, PVC, and stainless steel 316, are diverse. Each type of pump material is suitable for different user applications.
The operating temperature of the Chemical Metering Pumps is not high, and they perform best at temperatures below 40 degrees Celsius.
There is a wide variety of models and designs available for Chemical Metering Pumps, catering to the needs of both individuals and businesses, including large-scale applications in factories.

Applications of Chemical Metering Pumps in Production
Chemical Metering Pumps in diaphragm form are commonly installed in industrial printing machines for ink pumping. They work continuously and reliably without the worry of ink clogging when the ink is nearly dry. The ink used in printing contains chemicals that are highly corrosive, making the application of diaphragm Chemical Metering Pumps with compact designs and excellent chemical resistance the most suitable choice.
Due to the use of premium-grade materials such as Polypropylene, Kynar, and Teflon PTFE in the construction of diaphragm Chemical Metering Pumps, these pumps can operate effectively in environments with acidic chemicals, bases, oil-based solvents, cosmetic chemicals, food flavors, pharmaceuticals, etc. Diaphragm Chemical Metering Pumps are widely used in the chemical industry.
In the paint manufacturing industry, diaphragm Chemical Metering Pumps are used for blending various solvents. Depending on specific requirements, the appropriate diaphragm pump material and size can be selected to meet production needs.
Diaphragm pumps can also be used for pumping dilute sludge or fuel into production machinery. These are highly viscous liquids that are transported by large-sized pumps. After use, cleaning the equipment becomes much easier and simpler compared to other types of pumps. Currently, diaphragm pumps are widely used in various stages of ceramic production, including sludge pumping, mixing tanks, and glaze spraying processes.
Viet Thai Trading and Technology Co., Ltd. – The exclusive distributor of EMEC products in Ho Chi Minh City. In addition to Chemical Metering Pumps, we also offer other prominent products such as metering pumps, disinfection systems, water meters, sensors, chemical pumps, submersible pumps for wastewater, etc.
– Viet Thai T.T's products serve both the manufacturing and environmental sectors.
– We specialize in providing chemical measurement equipment such as chemical metering pumps, pH meters, conductivity sensors, chemical storage tanks, etc.
– Our customers include multinational companies and factories such as Coca-Cola, Pepsi, Unilever, P&G, Colgate, Palmolive, Lavie, Nestle, Heineken, as well as industrial zones.
– In addition to supplying equipment, we also provide installation support upon customer request.
– Furthermore, we offer free and dedicated customer support to address any inquiries.
Contact us today to have our dedicated staff provide prompt consultation and pricing for customers.
We guarantee that all our products are 100% genuine and come with a 12-month warranty. We also offer a 1-for-1 replacement policy within the first 3 days from the date of purchase. Therefore, if you have a need for Chemical Metering Pumps, please contact:
VIET THAI T.T CO., LTD.
Address: 2/6 Nguyễn Huy Lượng, Ward 14, Bình Thạnh District, Ho Chi Minh City
Phone: (+84-28) 35511793 – Fax: (+84-28) 35511794
Email: info@vietthaiaqua.com
Website: vietthaiaqua.com