1. What is a Chemical Dosing Pump?
Chemical Dosing Pump is the name of an industrial pump used specifically for dosing and pumping various types of chemicals, especially corrosive and highly reactive chemicals such as hot concentrated sulfuric acid (H2SO4), nitric acid (HNO3), hydrochloric acid (HCL), alkaline solutions, etc. These pumps are designed to achieve the highest pumping efficiency.
Chemical Dosing Pumps are widely used in chemical industries and various other industries such as printing, paint production, chemical laboratory, scientific research, rubber production, asphalt, liquid crystals, etc. In addition to pumping different types of chemicals, Chemical Dosing Pumps have many other applications depending on the user's needs.
2. Structure of Chemical Dosing Pumps
Chemical Dosing Pumps have a relatively simple structure similar to water pumps, and they can be either horizontal or vertical centrifugal pumps. The difference between water pumps and Chemical Dosing Pumps is that Chemical Dosing Pumps measure the amount of water and adjust the dosage according to the specific requirements, while also pumping various types of chemicals. On the other hand, water pumps are only used for pumping water. However, water pumps have a wide range of materials, whereas Chemical Dosing Pumps are made of corrosion-resistant materials such as PP plastic, stainless steel, etc., for the parts that come into contact with chemicals.
The structure of Chemical Dosing Pumps includes the following components:
– Pump body, pump chamber, pump lid, pump shaft, impeller, pump rotor, inlet assembly, outlet assembly, suction pipe, discharge pipe.
Each component of Chemical Dosing Pumps has different functions and works together to form a complete unit that operates efficiently with the highest performance.
3. How Do Chemical Dosing Pumps Work?
Chemical Dosing Pumps operate based on a simple yet precise mechanism that enables them to pump even highly viscous and difficult-to-pump chemicals.
Step 1: Priming: Chemical Dosing Pumps work on a similar principle to water pumps, so priming is necessary before pumping. Priming involves filling the pump body and suction pipe with liquid before starting the pump.
Step 2: Pumping: The pump starts operating, and the impeller rotates. Under the centrifugal force, the liquid is thrown out and moves through the designated paths into the discharge pipe.
Step 3: Suction: When the pumping process is completed, a vacuum is created at the inlet of the impeller, allowing the liquid to be drawn into the pump through the suction pipe.
Step 4: Completion: The pumping and suction processes continue in a continuous cycle, forming a complete operation of Chemical Dosing Pumps.
By reading this news article, you now have an understanding of what Chemical Dosing Pumps are, as well as their structure and working principle.
4. Reliable Chemical Dosing Pump Supplier
Việt Thái T.T Trading Company Limited is the exclusive distributor of EMEC products in Ho Chi Minh City. In addition to Chemical Dosing Pumps, we also offer other prominent products such as chemical dosing pump, disinfection systems, water metering devices, sensors, chemical pumps, submersible wastewater pumps, etc.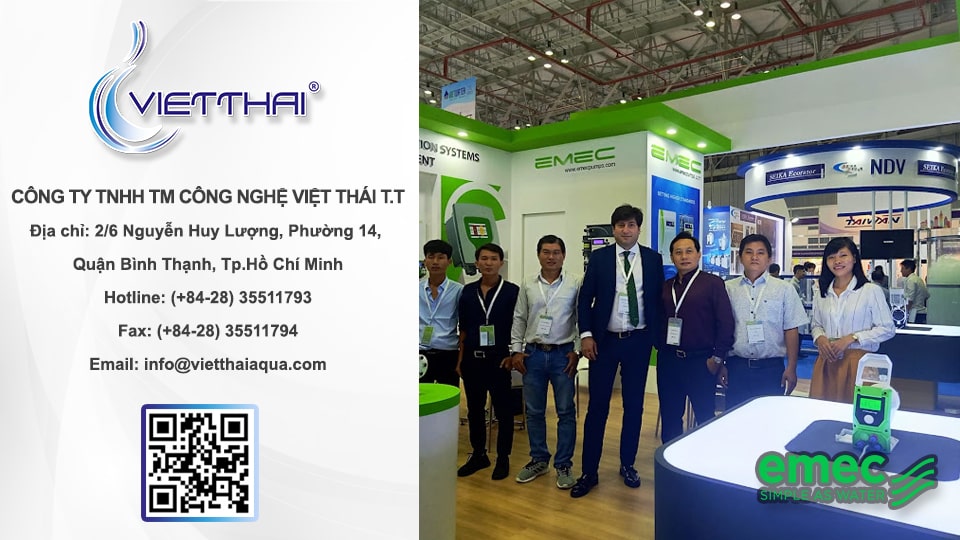 – Việt Thái T.T's products serve both manufacturing and environmental sectors.
– We specialize in supplying chemical measurement equipment such as Emec chemical dosing pumps, pH meters, chemical conductivity sensors, chemical storage tanks, etc.
– Our customers include multinational companies and factories such as Coca-Cola, Pepsi, Unilever, P&G, Colgate, Palmolive, Lavie, Nestle, Heineken, as well as industrial zones.
– In addition to equipment supply, we also provide installation assistance upon request.
– Moreover, we offer free and dedicated support to address any customer inquiries or concerns.
We guarantee that our products are 100% genuine. When you purchase products from Việt Thái T.T, they come with a 12-month warranty and a 3-day replacement policy from the date of purchase. Therefore, if you have a need to purchase Chemical Dosing Pumps, please contact:
VIET THAI T.T CO., LTD.
Address: 2/6 Nguyen Huy Luong, Ward 14, Binh Thanh District, Ho Chi Minh City
Phone: (+84-28) 35511793 – Fax: (+84-28) 35511794
Email: info@vietthaiaqua.com
Website: vietthaiaqua.com