Powerful controller for control cabinet installation
Wherever gases are used or may be present in industrial and commercial applications, they must be monitored. A gas detection system consists of one or more transmitters, which use sensors to detect gases, and a controller, which has a wide range of tasks. The GMA200-MT6 controller is ideally suited for use in complex gas detection systems with up to 16 transmitters (of which up to 6 are analog).
Safety measures can be connected directly to the GMA200-MT6 via internal relays. The display will indicate the current measured values as well as any alarms or special states of the transmitters.
Fixed transmitters monitor combustible or toxic gases and vapors present in the ambient air as well as the oxygen concentration. A controller displays the measured gas concentrations centrally and processes the incoming signals. The GMA200-MT6 is the right choice if
gases are monitored with up to 16 transmitters (up to 6 analog)
safety measures are to be operated via the controller
the measured values are to be shown centrally on a display
an acoustic and visual alarm is required on site
operating status and alarms are to be indicated by status LEDs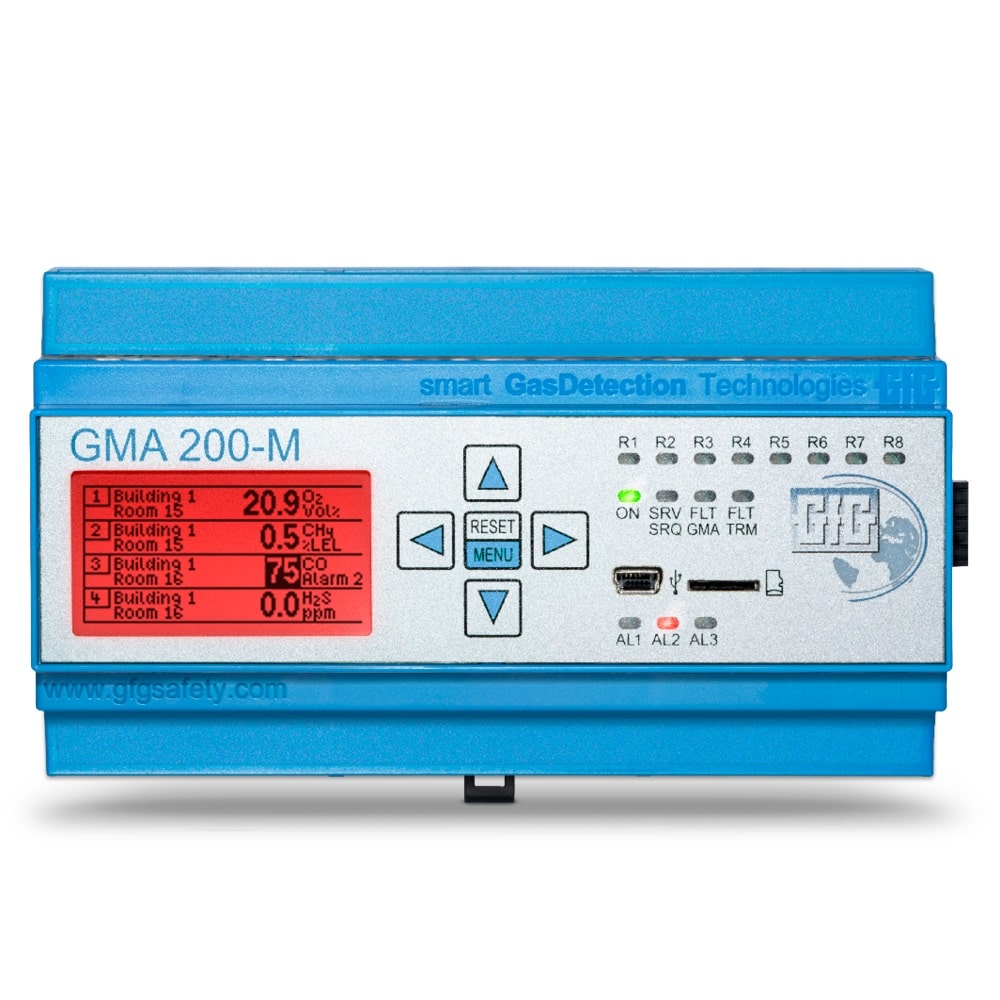 Wide range of applications
The GMA200-MT6 controller and the connected transmitters form a stationary gas detection system for measuring toxic and combustible gases as well as oxygen concentration. Up to 16 digital transmitters can communicate with the controller via the RS-485 interface. Analog transmitters (up to 6) can be connected via 0.2-1 mA or 4-20 mA. The GMA200-MT6 is suitable for any GfG transmitter and any available gas type. This offers a large number of possible combinations of gases, measuring ranges, measuring points and Ex-zones to be monitored simultaneously.
The controller is designed for mounting on a DIN rail (TS35), for example in a control cabinet. The supply voltage is 24 V DC.
Internal relays and extensions
For the implementation of safety measures, 6 internal relays with one normally open contact each can be programmed individually. Two additional relays are available for fault messages and maintenance. If required by the application, the number of programmable relays can be increased up to 70 (6 internal and 64 external relays). The relay modules are connected via the GMA bus interface. GfG's GMA200-RT and GMA200-RTD relay modules allow safety measures to be implemented in a decentralized manner, reducing the amount of cabling required.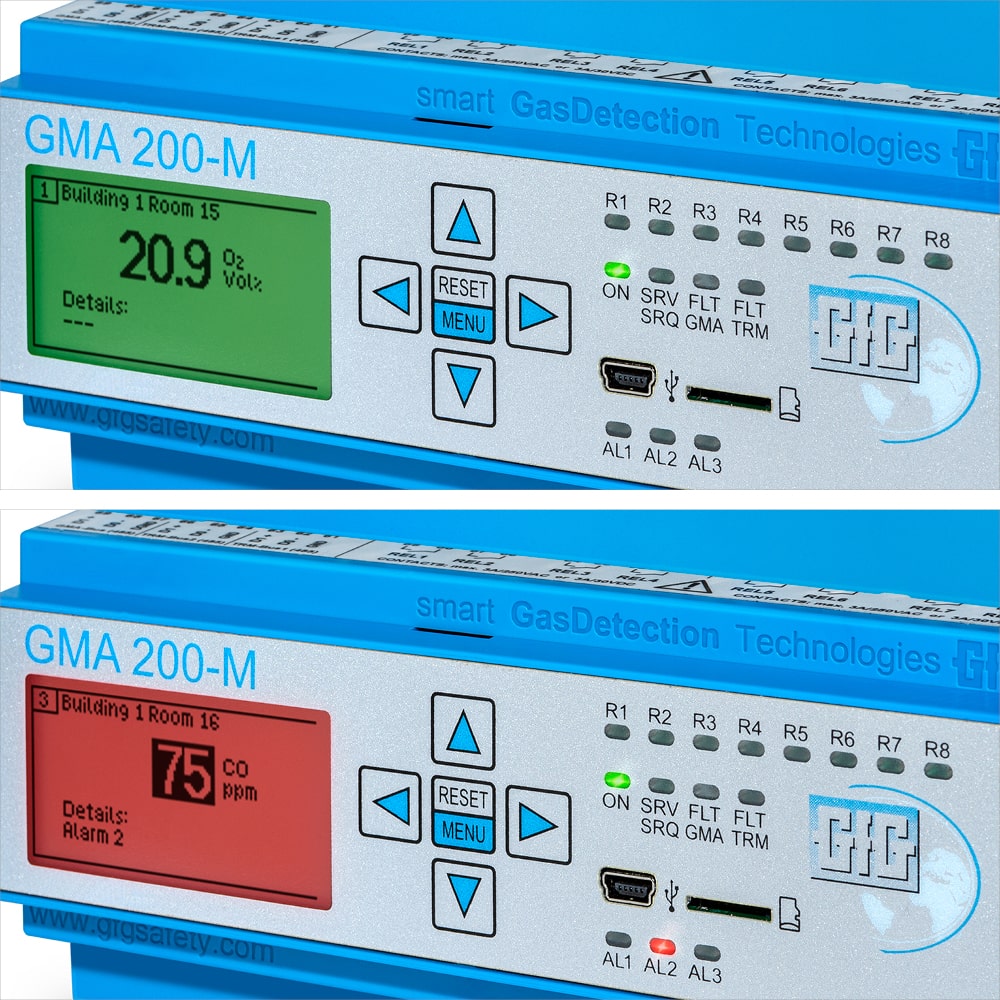 Clear indicators for assessing the hazard situation
The GMA200-MT6 has a color backlit 2.2-inch display. It shows the current measured values of the connected transmitters at any time. In the event of an alarm, the background color changes from green to red. At the same time, LEDs indicate the alarm level and the relay switching states. A local alarm is triggered by a loud, integrated buzzer (70 dB(A)). Two inputs are available for external alarm acknowledgement push buttons.
Operation, visualization and data storage
The operation of the controller and the alarm acknowledgement on site are done intuitively via 5 push buttons. Configuration is possible via the mini-USB interface using a PC and the GMAConfig software. With the optional GMA200-VS software, all measured values and states of the connected transmitters can also be displayed decentrally on a PC or monitor.
Equipped with a microSD card, the controller permanently stores measured values, average values, alarm events and faults at individually configurable intervals for evaluation.
Key features at a glance:
General information:
Suitable for every GfG transmitter
Monitors 1 to 16 measuring points
Features:
8 integrated relays for safety concepts, fault messages and maintenance
0.2-1 mA, 4-20 mA or RS-485 (Modbus)
Color backlit 2.2″ display
15 colored status LEDs
Audible alarm
Housing for rail mounting (TS35)
Optional:
Data logger (microSD card)
Relay module for expansion (up to 4 modules with 16 relays each)
Visualization software
Uninterruptible power supply
Approvals / Certifications:
ATEX certification: II (2) G
SIL 2/3